IKAL SPA at MARIA DEL MAR
Nowadays, a free state of mind, living in peace, feeling not only good but at your best may sound like a utopian dream. Concepts like tranquility, wellness, freedom and happiness may sound like common words yet are sometimes impossible to accomplish, hence the eternal pursuit of the human being to find them, to fulfill that desire of reaching a "state of grace" in perfect balance with the natural elements that surround us. Believe it or not, this kind of grace, this happiness is within our reach, but sometimes it seems that we let ourselves be consumed by our busy life so it's getting harder to recognize it when it is actually around us.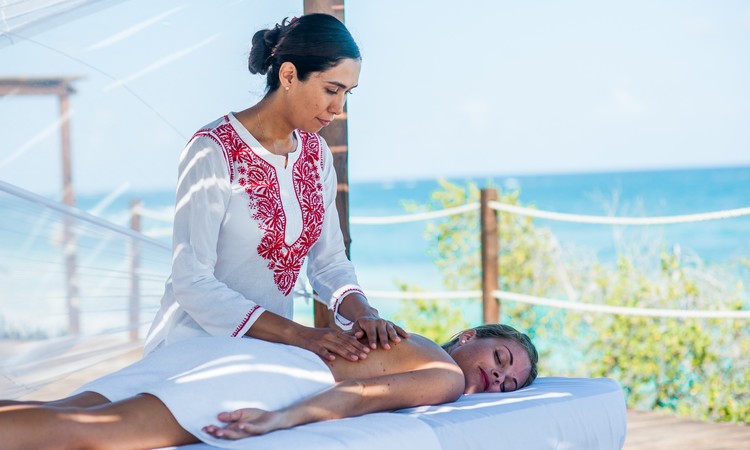 IKAL SPA AT MARIA DEL MAR MENU
SWEDISH MASSAGE 60 MINS. $100 USD / 90 MINS. $130 USD
RELAXING MASSAGE 60 MINS. $100 USD / 90 MINS. $130 USD
HOLISTIC MASSAGE 60 MINS. $120 USD / 90 MINS. $160 USD
DEEP TISSUE MASSAGE 60 MINS. $110 USD / 90 MINS. $150 USD
REFLEXOLOGY 60 MINS. $110 USD
In Maria del Mar Tulum we've come to understand that the way to happiness is through the connection with the natural elements and finding something that awakens our senses to naturally trigger that connection. The sea, the wind, the voice of the jungle, the heat of the sun and of course the human energy, are conducive channels connected straight to a state of well-being. Tulum is an ideal convergence center to reach it. The avant-garde Bohemian atmosphere of Maria del Mar is the ideal space to experience that connection, necessary to reach that state of grace known as the Tulum wellness
Maria del Mar hotel is a Tulum wellness center set in a privileged location where we are fortunate to feel the natural connection making us somehow "experienced wellness enhancers". By making our guests feel not only good but in harmony with the environment and others. Our Spa treatments, Yoga practice, healthy tasty and trendy food along with the Tulum's perfect weather and our privileged location make María del Mar redefine the concept of wellness. We are ready to share with you our experience, wisdom and the latest techniques for healing and well being.
We fully understand that the world is constantly changing and to keep up with the trends you must feel prepared physically and mentally. For us, feeling and looking good is not a matter of fashion, it is a way of life that we want to share with you. Our wish is for you to find your own state of grace, having us as the facilitators. At María del Mar Tulum we have the necessary elements and expert advice so you will not miss anything. Ask about the wellness alternatives that we have for you, together we will find what you need.